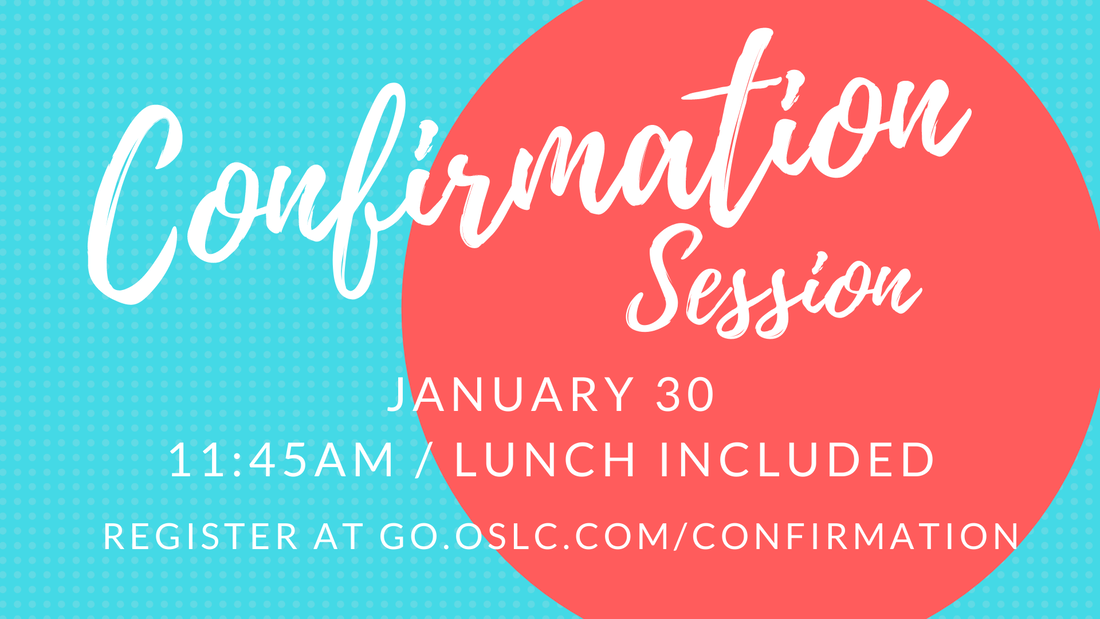 ---
CONFIRMATION OVERVIEW
WHAT ARE THE GOALS OF CONFIRMATION?

Confirmation is a two year program in which students 1) discover who they are (identity), where they fit (belonging), and what they do (behavior) as they 2) become strategic, integrated members of OSLC.

We strive to accomplish these goals by providing and encouraging intergenerational experiences and informal faith conversation. These experiences are the two most important factors in people to have an enduring and growing lifelong faith.

Traditionally, Confirmation has been used to help

Christians identify with the life and mission of the Christian community. While cultural contexts change, the truths of our faith are constant and continually transforming to all generations.

Confirmation can be started at any age, but most typically start in the spring of their 6th grade year. It's never too early and never too late.

WHARE ARE THE ROLES OF PARENTS AND STAFF?

We use a

parent-led model with staff instruction because we believe that parents are the most influential people in their kids' lives and God designed it that way. We use multiple settings including home, quarterly sessions, volunteer projects, weekly youth Life Groups, and weekly worship.

​Parent-led means that we honor parents' God-given responsibility and authority to disciple their kids in the ways of Jesus. Our team provides foundational teaching and comes alongside you with resources, tools, and encouragement help you lead your sons and daughters through the process of considering, wrestling with, and understanding their faith as their own.

We also recognize that everyone has unique family contexts and dynamics. We start with ideals and apply them contextually to each student.

​

Our model for Confirmation has been influenced by the by the biblical calling for parents to disciple their kids (

Deuteronomy 6:4-25

;

Ephesians 6:1-4

) and the research Fuller Youth Institute has conducted along with our discipleship team's 40+ years of youth and family ministry experience. To learn more about the research, check out the

Sticky Faith

and

Growing Young

research studies.
---
EXPERIENCES OF CONFIRMATION
Weekly Program

Weekly involvement as the Body of Christ is vital in the lives of all Christians and provides the space to learn more about the God of all Creation and we expect Confirmands to make every effort to be part of it each week.
Worship – The most important behavior to develop a lasting faith is intergenerational worship. We worship at 8:00am, 9:30am and 11:00 am on Sunday.
Wednesday Night Youth Life Groups – Small group time for discovering who we are and where we fit.
Self Guided Video Modules
These self-paced modules include topics such as The Big Story of God and Us, How to Read the Bible, The Lord's Prayer, 10 Commandments, Apostles Creed, Sacraments, and Church History. These interactive video posts include short teaching videos and space for students to share interactive responses. Contact
Cary
to get started.
Bible Reading
God speaks to us through His Words, the Bible (
2 Timothy 3:16-17
). We believe this is true for everyone including our teens and children and this happens as we develop the habit of reading and discussing Scripture. As part of Confirmation, we ask students and their parents to commit to Bible reading together through the two years.
The goal of this is to help students learn to listen for God's voice as they read Scripture.
We work together with families to establish a suitable reading goal for their student.
The deadline is to be finished by the first Sunday in October for 8th graders (October 2nd for class of 2022, and October 1st for the class of 2023
).
​
Students submit a
Bible Reading Form
the first Sunday of each month
, which are read and interacted with by our team.
We know that the God who has spoken to people since we were created will speak to you as you read through the Scriptures. Here are some of the resources we use to do this:
Sessions
These are
required
for both
parents
and
students
to check-in on progress, gather for prayer and encouragement, and provide staff-led teaching on our main goals of Confirmation. Themes for these include knowing God, doubt, belonging, 10 Commandments, Apostles Creed, Lord's Prayer, baptism, communion, doubt, prayer, and taking initiative with our faith. We generally meet at 12:00pm - 1:30pm in the Fellowship Hall on the following Sundays (class completion dates of participants).
​
​

January 30, 2022 (2022-23)

April 17, 2022 (2022-23)

June 5, 2022(2022-23)

September 25, 2022 (2023-24)

January 29, 2023 (2023-24)
April 23, 2023 (2023-24)
June 4, 2023 (2023-24)
Storying
Storying help students understand and communicate the themes and story of Scripture conversationally in our own words. There 12 required stories (8 are set and 4 are student choice). Parents must complete a

Storying form

for each of the 12 stories their student tells and submit them online.

These are due the first Sunday in October for 8th graders (October 3rd for class of 2021 October 2nd for class of 2022, and October 1st for the class of 2023).

​ Elements of storying include:

1-3 minute in length
Clear distinctions of Law and Gospel
What are we doing or being asked to do in this story?
What is God doing in this story?
Elements that help the hearer understand the context of the story.

8 set stories (The Story of God and Us)

Creation - Genesis 1-2; John 1
The Fall – Genesis 3; Romans 1
The Promise – Genesis 3:15; Genesis 15; Jeremiah 31:31-34; Galatians 3:15-29
Jesus' Life – Any instance from the life of Jesus in Matthew, Mark, Luke, John
Jesus' Death – Matthew, Mark, Luke, John each have an account of his death
Jesus' Resurrection – Matthew, Mark, Luke, John each have an account; 1 Corinthians 15
Transformed by the Spirit – Romans 8; Ephesians 4-5; Philippians 3:12-4:1; there are many other examples in the New Testament Epistles (1&2 Corinthians, Galatians, Ephesians, Philippians, Colossians, 1&2 Timothy, 1&2 Thessalonians, 1&2 Peter, 1,2,3 John, Hebrews, Jude)
Eternal Life Starts Now – Romans 6:23; John 10:10; Matthew 7:21-23; Revelation 21; Many of the New Testament Epistles speak of this in the first couple chapters.

Examples for the other 4

Beginning of the Church – Acts 2
Hallmarks of the Church – Ephesians 4
How do we pray?
Accounts of the Prophets
The Apostle's Mission Trips
Jacob/Esau
Jonah
Parable of the Sower
Any others you choose
Faith In Action

We want students to not only learn how to help others, but to be able to identify a need, develop a solution, and lead a team of people to meet that need. Students must attend 3 Faith in Actions (generally quarterly, from 8am-12, check church calendar for dates.) and lead 1 Faith in Action projects.
The goal is to finish your project by the first Sunday in October for 8th graders (October 3rd for class of 2021 October 2nd for class of 2022, and October 1st for the class of 2023).
In preparation for the project, students must fill out a
Faith in Action Pre-Worksheet
which will submit their idea to Kristi Kellogg. Following the completion of their project, they must turn in a
Faith in Action Report
for the project they lead to Angela Wolf. Here is the process for leading a project:
4 weeks out
Contact Kristi (always CC Matt & Angela) with a project that has a low skill level, 4 hr. completion, $200 budget.
Recommend your project online upon approval at go.oslc.com/fia
Identify an adult co-leader (a parent, an adult relative, a coach or mentor). Your co-leader is someone who has the skills and resources to help you complete the task. If you cannot find an adult to help you plan and organize materials, Kristi will recommend a FIA mentor.
3 weeks out
Visit the job site with your co-leader site to assess materials, tools, and contact the client.
2 weeks out
Work together to finish up gathering tools; last week to make adjustments on planning.
Week of
Introduce project to group and lead your team.
Capstone Expression
This is the culmination of what you believe about God and what you have learned throughout your Confirmation experience and usually occurs in the fall following your second year. Your expression can utilize any expression (song, dance, painting, essay, poetry, video presentation with graphics & pictures, digital art, and more). Your expression should include the teachings you believe, who you are in Jesus Christ, how you relate to God, how you plan to be part of OSLC in the coming years, how you see people who don't know Jesus, and your Confirmation verse.
This worksheet
will help you process your thoughts with leading and reflective questions.
Students do have one final gathering time that we call the
Capstone Self-Discovery
. This is required for all students (not parents) and occurs during the September session for other Confirmation students. ​
The goal is to be finished with your rough draft by the first Sunday in October for 8th graders (October 3rd for class of 2021, October 2nd for class of 2022, and October 1st for the class of 2023).
Online Forms
Printable Forms
Confirmation Day
Confirmation Day for the Class of 2022 is on
October 16

, 2022 at the 11:00am
service and the Confirmation Capstone Expressions and rehearsal is on
October 15,

2022 at 4:00pm
.
Confirmation Day for the Class of 2023 is on
October 15, 2023 at the 11:00am
service and the Confirmation Capstone Expressions and rehearsal is on
October 14, 2023 at 4:00pm
.
​For more detailed information and further questions, contact
Matt Cario
.