How Do I Become a Member of OSLC?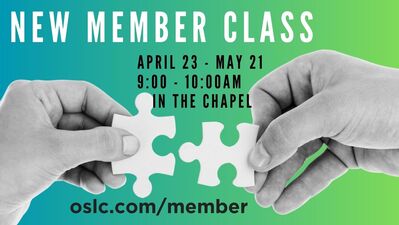 We encourage membership for those who are baptized and desire to formally align with the mission, values, vision, and beliefs of our congregation. While participation in most activities and many volunteer roles is available to anyone, there are some positions that are reserved for those who have aligned themselves with the church through membership. Membership is a simple, three-step process.
Register for the class and complete a New Member Record form.
Attend the Roots Membership Class.
Be received into membership by our congregation on New Member Sunday.
The
Roots
Membership Class runs for 5 weeks and is scheduled two times each year: once in the spring and once in the fall. The class will give you an opportunity to learn more about who we are as a congregation and to ask any questions you may have. By attending the Membership class, you are not making the commitment to become a member, but you will be invited to do so upon completion.
Contact
Shelly Lindow
more information and to register for the class.
---