Joy of Generosity Sunday + Elder Tithe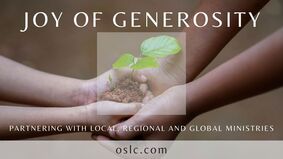 Our Elders allocate a tithe of our annual budget to support local, regional and global ministries. Funding requests for the Elder Tithe are submitted in October, and grants are awarded by January. Recipients are recognized by the congregation on "Joy of Generosity Sunday" in February.
In 2022, we allocated over $182,000 to 21 ministry partners! These non-profit ministries expand the reach and impact of our ministry as together we Love God, Love People, and Live Like Jesus.
---
2022 Ministry Partners

Care Net of Puget Sound​
Children of the Nations
Communities in Schools, Puyallup
Compassion International, Child Survival Program
Compassionate Partners Network International
Flint and Iron
Harvest House Power Packs
Indonesian Outreach, Disciplemakers Increase, YWAM Coaching
LCMS NW District
Lutherhaven
Mission Training Center
Nourish Pierce County
OSLC Sheriff Rest Stop
Puyallup Food Bank
Tacoma PC Habitat for Humanity
Tacoma Rescue Mission
WA Alliance for Life
WA State Chaplaincy
Young Life South Central Pierce
Zoe House
Ministry Partners from Previous Years